She looked to the left and then to the right.  There was only one seat open. Stuck in a busy airport, Sejal needed to eat before her next flight. With only one spot open in the bustling dining area, she quickly glanced to the person sitting to the left of the only open chair.
Her response was so automatic that she barely caught it herself. The tattoos, the leather jacket, the colored spiked hair and the loads of jewelry hanging off the man sitting in the chair reminded her of Mr. T's outrageous style. She hesitated but quickly grounded herself. Catching his eye, she smiled and proceeded to walk toward the open seat next to him.
Once she settled in her chair, she looked over at him and offered a shy smile. He returned the gesture and said, "You know, about six people stood where you stood. They looked at the seat, looked at me, and  walked away." His eyes glanced at the  'spot of decision' and then back at hers. His smile saddened a bit.
She realized she had the same reaction the others who stood there before her had. But gladly, she was able to overcome that negative response and check her pre-judgements. The conversation they had was a joyful one. It turns out she wasn't sitting next an average person with a typical life. She was sitting next to an adventurous  Las Vegas hot air balloon pilot with amazing stories. He offered to take her on a hot air balloon ride if she was ever in his neck of the woods. She ended up taking him up on his offer for a hot air balloon ride. It was one of the most magnificent moments of her life.
This makes me ask you. How many hot air balloon rides are we missing out on because of bias? How many connections do we walk past because of negative pre-judgements? Sejal Thakkar, a CAFFE speaker and trainer and newly TEDx speaker, shares her story and expertise on unconscious beliefs, how to identify them and how to overcome them.
Sejal, thank your for your vulnerability and wisdom.
Genein Letford, M.Ed
CEO, CAFFE Strategies, LLC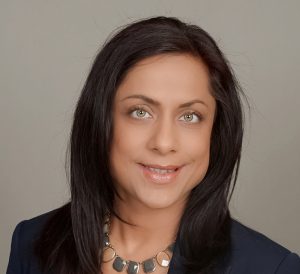 Having lived in a predominantly all-Italian neighborhood while growing up, Sejal Thakkar was no stranger to facing bias on a daily basis. In her talk, Sejal examines the concept of bias through three different viewpoints (pain, paradox, and power) and encourages us to show compassion in the face of adversity by controlling our own biases.
As a highly experienced employment law attorney, Sejal's more than fifteen years of experience advising clients, human resources personnel, and legal counsel regarding sound, standard employment practices uncovered a need – and personal passion – for bringing more proactive, relevant, and impactful workplace training programs to her clients and their teams. Her highly experiential customized workshops tailored to executives, managers, and individual contributors bring the courtroom to the training room in an interactive, engaging environment that favors human stories over compliance checklists.
Sejal Thakkar is  a keynote speaker and trainer with CAFFE Strategies, and the founder and Chief Civility Officer of TrainXtra.  As Sejal grew up in a suburb of Chicago, Sejal fought hatred and discrimination on a regular basis. She refused to allow ignorance, insensitivity, and the bullying conduct of others to impact her inner "ninja". Armed with the knowledge she gained from these experiences, Sejal teaches that harassment will not stop on its own – it's up to all of us to be part of the fight to stop workplace harassment. We cannot be complacent bystanders and expect our workplace cultures to change by themselves. Sejal passionately transforms the workplace and education settings into places of civility by empowering others to be a part of the solution. Her goal is to empower each employee to create a positive workplace environment!